Our team surely had a successful time at State Competitions this past weekend for we received an invitation to WORLDS!
Thanks to our great drive team, our robot Pixel was again able to make several successful climbs thanks to our buddy ramp with teams 3947, 5010, 829, 7198, 1018, and 1741. However, falling short to be able to join the top eight seed alliances, we waited in anticipation to be chosen during the alliance selections. Soon enough, the 7th seed alliance, Team 1741, chose us to join alongside them. Graciously accepting their invitation, we then asked Team 5188 to join us as our third partner, and they as well accepted. During the quarterfinals, we managed to climb our way from the bottom to the top and even made it to the finals! We won the first final match, and unfortunately, during the second match Pixel took a fall. No harm was done thankfully, and we proceeded to enter in a close last match which we sadly weren't able to win. However, we are very grateful to have exceeded far into the competition, and we are also very excited to be able to participate in the World's Championship in Detroit, Michigan next week.
Meanwhile, during the awards ceremony, we wowed the judges again with our buddy ramp and earned the Industrial Design Award, and also, along with teams 1741 and 5188, took home finalist medals.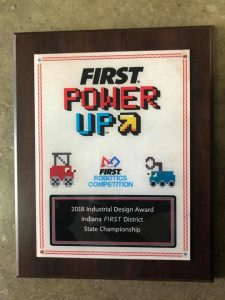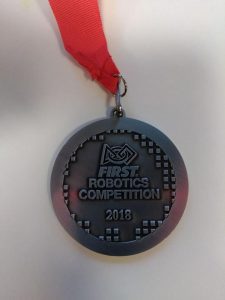 As the World Championship approaches, we have much to prepare for. That includes finding funds for our needs such as transportation, lodging, food, etc. If you would like to help support us whether you are a team member, parent, or simply a fan, you can donate by clicking on this link: https://www.paypal.com/fundraiser/charity/122352
We would greatly appreciate your support, and as always, go gears!