Our team had a great time this past weekend at our second district competition in Tippecanoe. Ranking at 16th place in the state, we are able to qualify to compete at the State Championships next week!
Thanks to our amazing drive team, our robot, Pixel, was able to make several successful climbs with multiple teams including 4982, 1501, 5010, 5403, 5484, 3487, 3655, and almost team 829 before they, unfortunately, fell off the ramp while climbing. We made it up to them; however, when we gratefully accepted their offer to have us join their alliance for the playoffs. Along with team 829, we teamed up with team 3487 to battle out in the quarterfinals and to press further into the semifinals. Unfortunately, we weren't able to compete in the finals; but enjoyed watching and cheering on the other teams.
Also, several of our team members volunteered for this FIRST event and did a great job with Kaylee and Gabe as field volunteers and myself (Abigail) as a photographer. Of course, we can't forget about our great scouters for spending all day scouting and calculating data to help our team.
Meanwhile, in the pits, we were happy to receive the Best Buddy Bot award from team 461, and also, during the award ceremony, we were excited to receive the Industrial Design Award!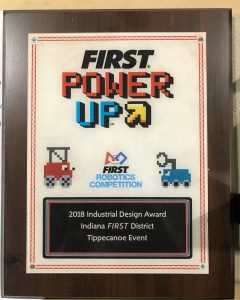 We are very excited to excel to State, and we hope we will be able to make it to World!