Last week, our team of over 30 students and mentors traveled to Detroit, Michigan, to compete in the World's Championship of FIRST Robotics for the second consecutive year. I daresay, we all had a wonderful time! We were able to excel and compete in the finals of our match division, Tesla, which enabled us to take home the finalist trophy and medals. We also earned the Red and Tacky Award from team 4531 and the Butter to My Bread Award from team 3641.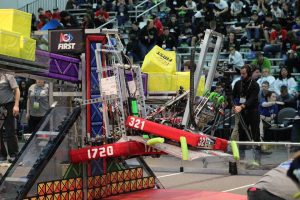 After a couple days of qualification matches, we ranked 43rd place in the division. During the alliance selections, we were somewhat surprised but moreover excited to be chosen by the 3rd seed alliance. On this alliance were teams 2614 from Morgantown, West Virginia; team 708 from Horsham, Pennsylvania; and team 2590 from Robbinsville, New Jersey. Our alliance then battled smoothly into the quarterfinals, semifinals, and eventually into the finals. Winning the first match of the finals, we were all ecstatic, for we had high hopes to win this division and proceed to Einstein. However, just like our competition at our Indiana State Championship, we were unable to win the next match nor the tiebreaking match. But of course, we were all proud of our accomplishments and for our great teamwork with the other teams and vice versa.
Along with our team, there were 15 other FRC Indiana teams as well, including 2 FTC teams and 4 FLL teams.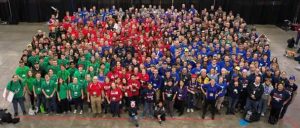 Meanwhile, if we weren't sitting in the stands watching the matches, many of us 1720 team members walked around the enormous Cobo Center and explored all of its many sights and commodities and the many exhibits at the Innovation Center Fair. There were numerous booths displayed, some with virtual reality games and one with a bot competing with students at a game of tic-tac-toe. One of our students Robby boasted that he had beaten the bot several times by using different strategies.
Also, if we weren't roaming the halls of bustling people, you could find us in the pits at our team's station or at the many other great teams from across the nation. A couple of our team member's favorite spot seemed to be the pits. Students Kaylee and Sierra thoroughly enjoyed talking with the other teams and loved collecting stashes of buttons and wristbands. They even explored the FTC stations and saw many international teams such as China, Romania, Jamaica, and France.
"I really loved seeing the teams cooperate," Our mechanical student Sierra stated. "In FIRST, you really don't get as competitive as you would in sports like basketball. Everyone in robotics has a really great attitude and is committed to what they're doing and to helping others. I met so many nice people there, and it was really enlightening and fun. I also really loved Roboprom. I had a lot of fun there, and it was great to just let loose. Altogether, I think it was just a super cool experience, and I'm glad to be part of a great team."
As you can see, it was an amazing experience, and many great things happened this season. For example, our team placed fifth in state district points, placed second during the state competition, placed in the top 100 teams in the world, and placed in the top 24 teams in the world for our alliance.
All of us as are more than proud to be apart of this amazing team, the PhyXTGears!