Our team has two events under our belts for this year! Our robot performed well in both the Indianapolis District Event and the Kokomo City of Firsts Event sponsored by Andy Mark. We had fantastic competitions and have ranked high in the standings this year!
One of our scores from a round in the semifinals in Indy — 106
In Indianapolis, we were ranked 16th out of 32 teams, and we made it to the semifinals. In Kokomo, we were ranked 4th out of 32 teams and we made it to the quarterfinals.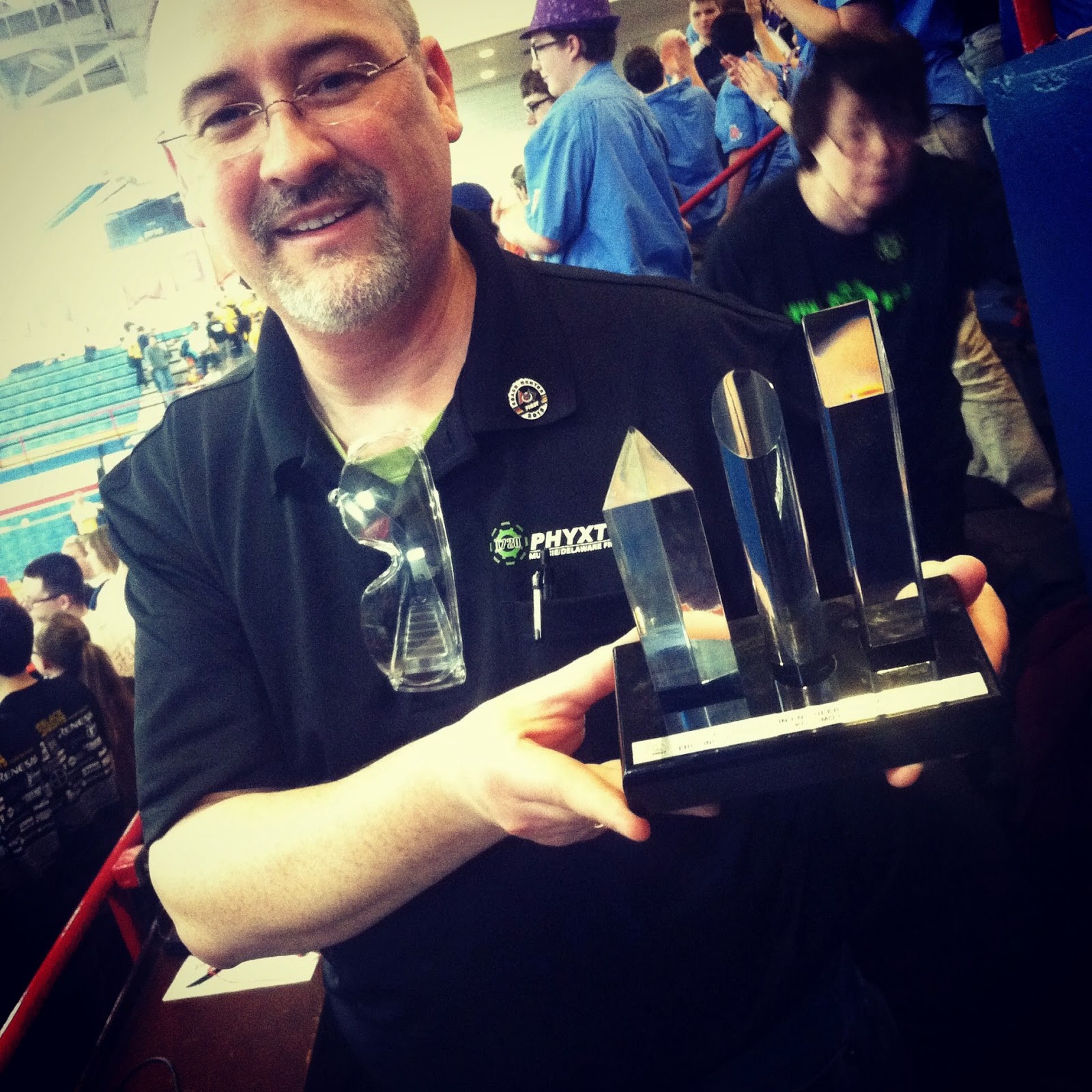 Our mentor, Shawn VanNess holding our Excellence in Engineering Award
Our robot had virtually no breakdowns, and we were extremely consistent on the field. At Kokomo, we won the Excellence in Engineering Award sponsored by Delphi, which celebrates an elegant and advantageous machine feature or features.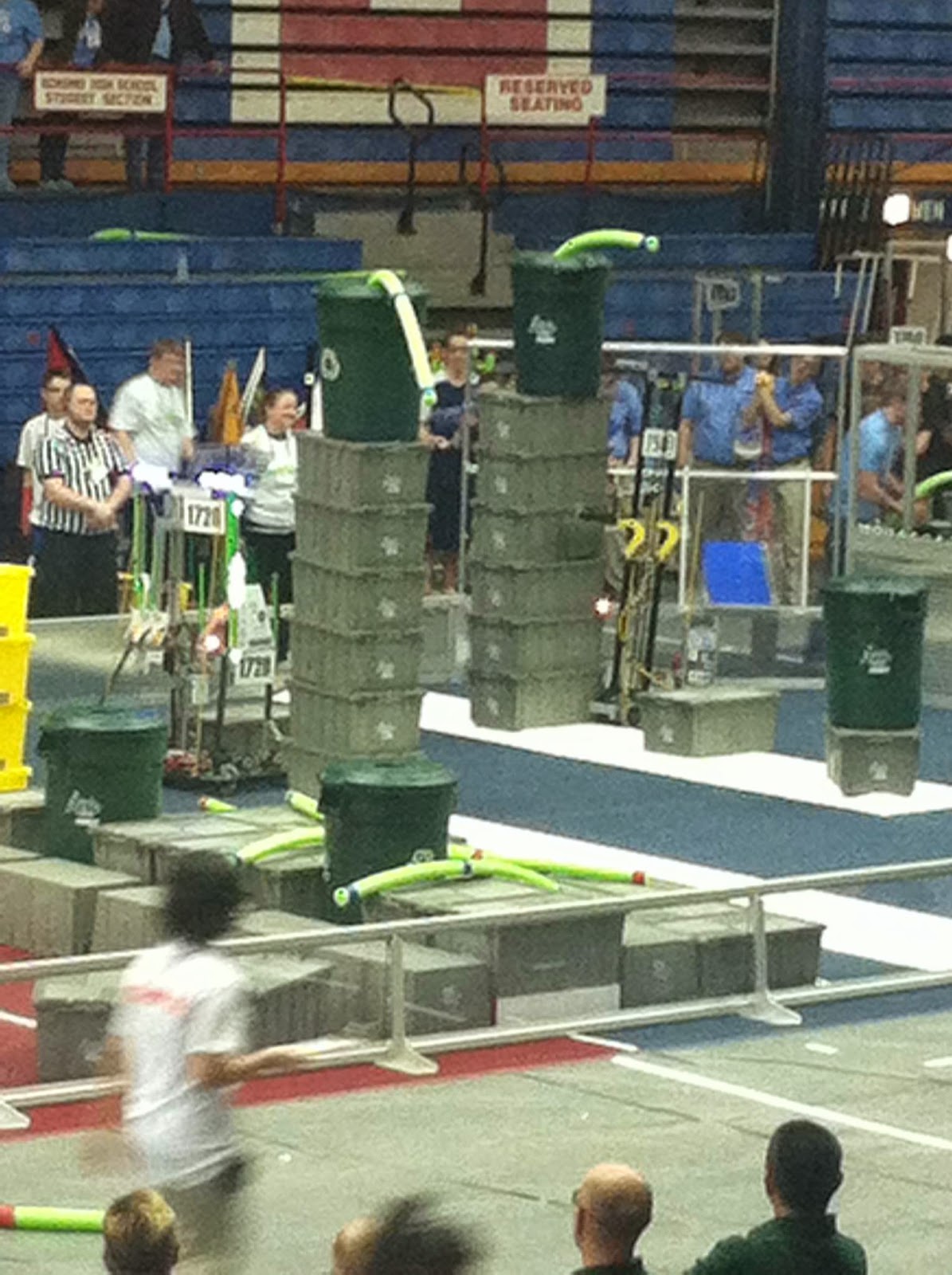 1720 robot stacking a six stack with garbage can and litter (pool noodle)
FIRST challenged its teams to build robots that would stack plastic shipping totes and top them with Rubbermaid garbage cans. While other teams focused on manually loading totes into their robots from "feeder stations" located on the playing filed, our team aimed for picking totes directly from the center of the court. At competition we excelled because our robot was the only bot that could quickly and consistently utilize these totes already on the field.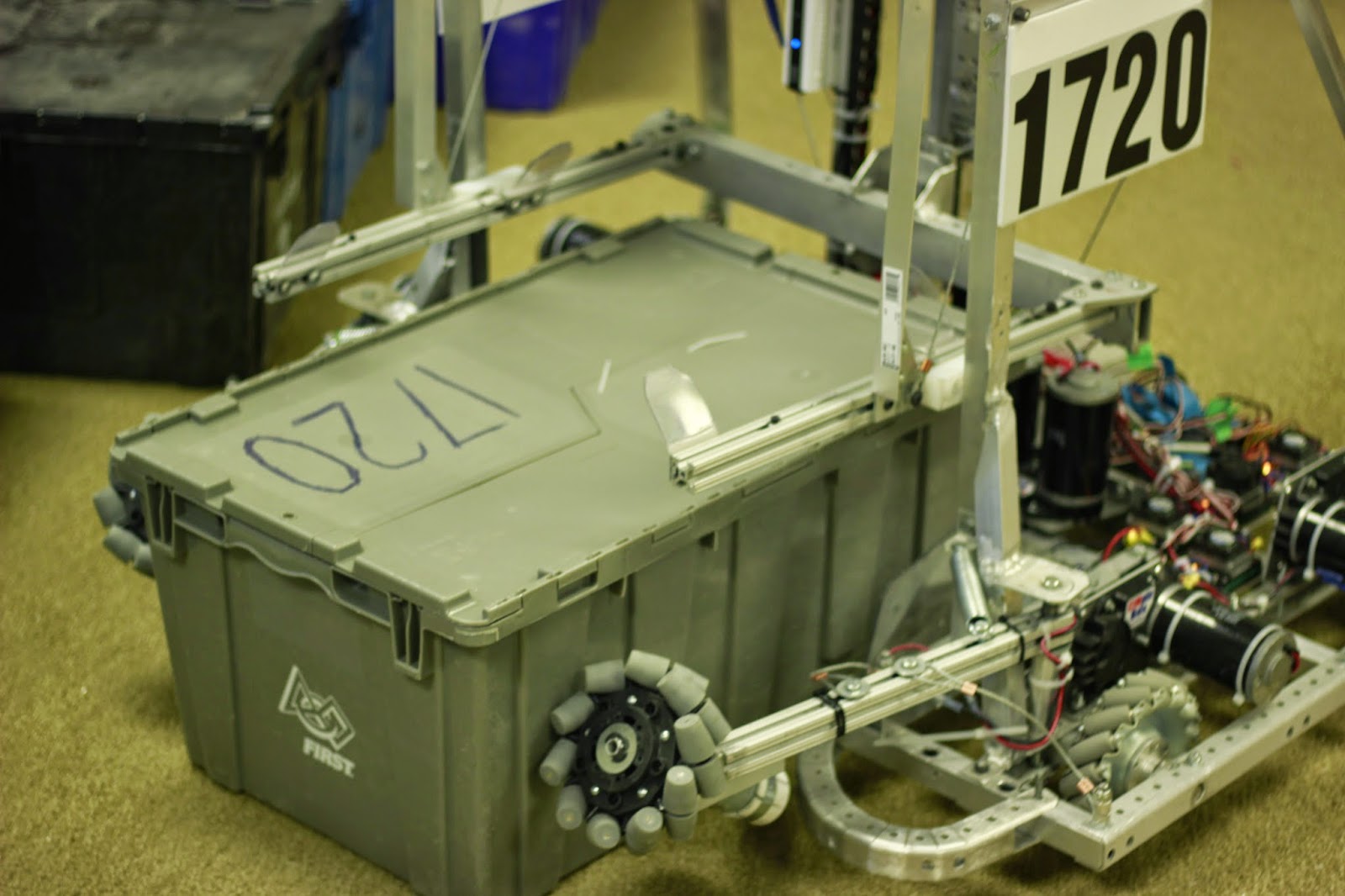 Our robot bringing in a tote
Our robot bring the totes into its frame perimeter to maintain its center of gravity and consistently score points even while carrying stacks two or three times its own heights. It employs high quality mecanum wheels that allow it to move in any direction, even diagonally, with unparalleled control and maneuverability.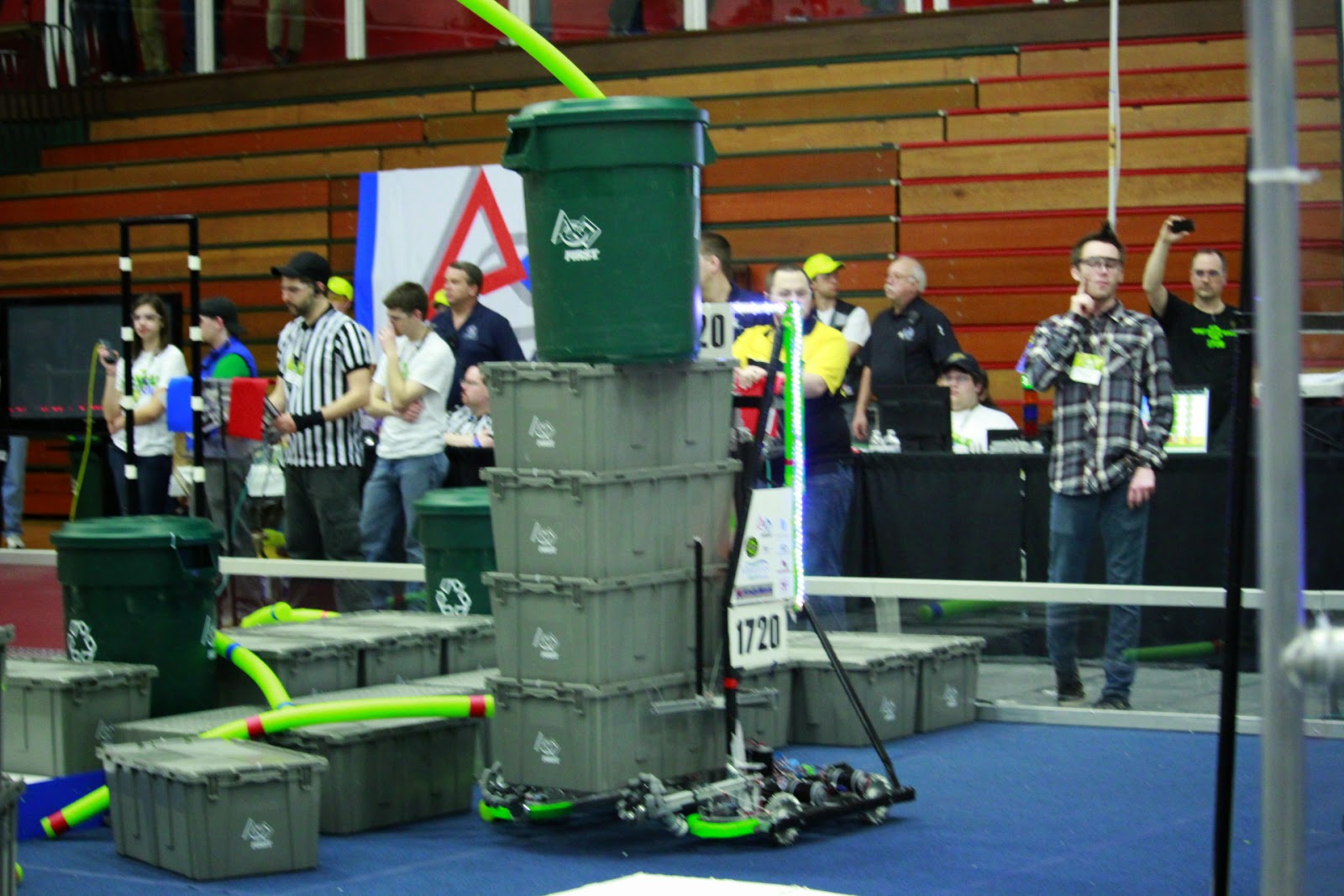 Our robot picking up totes from the "landfill"
Our robot even is equipped with a fully retractable robotic arm that can reach overtop of up to four totes to grab the all important garbage cans that would otherwise be impossible to use– giving us multiple strategies to utilize no matter what the game throws our way.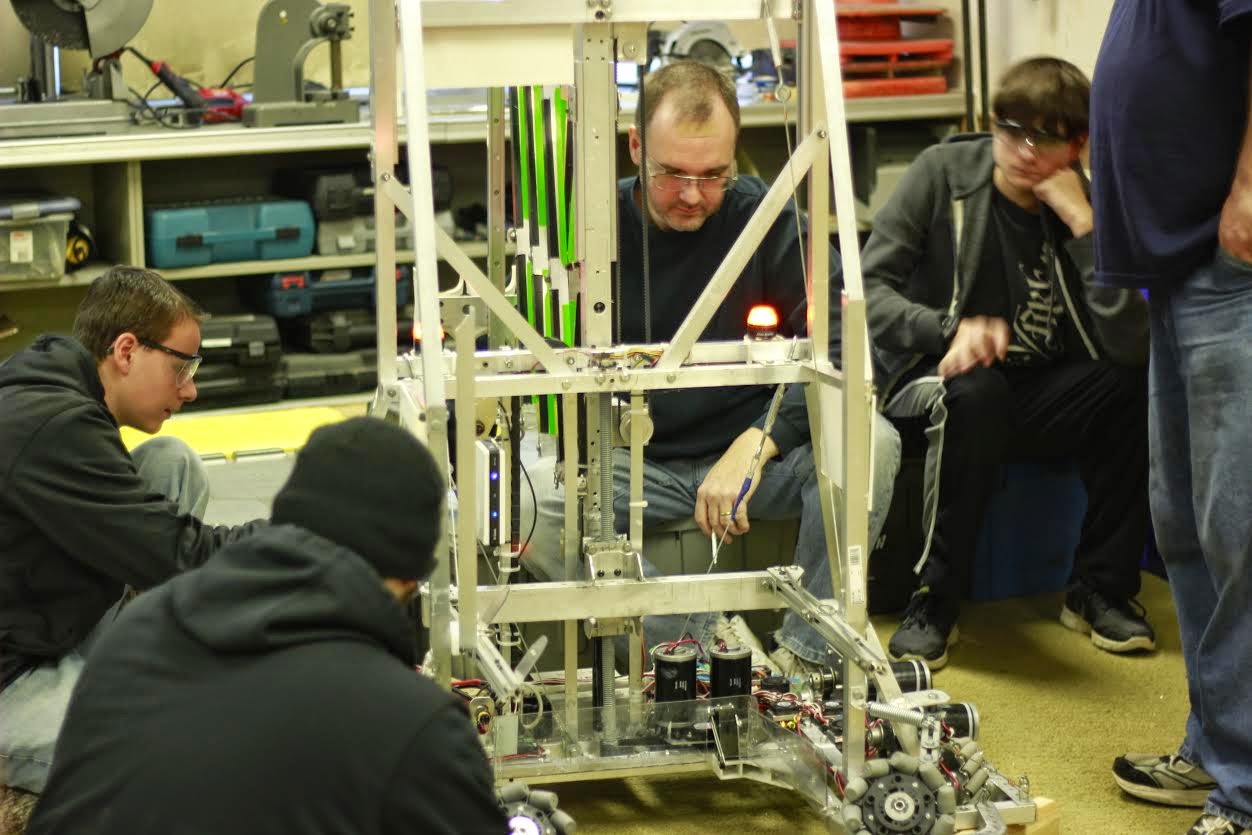 Team members consulting with mentor Rob Cartwright
Completely student designed, built, and operated, the PhyXTGears 2015 robot powers past the competition. Because of this, we anticipate being invited to two exclusive events. While students are asked to contribute to defray expenses while they are on the team,our portion only covers a small part of the total cost. The remaining funds must be raised from interested supporters in the community. If you or someone you know are interested in contributing to the costs of the Muncie Delaware Robotics learning experience, please contact us. Since Team 1720 is a 501(c)3 entity, your donations are tax deductible.